Hey there, this is May's issue of our internal newsletter!
Scroll down to see what's new!
Don't forget to rate how did you like this TeleSoftas Today at the bottom of the page!
In this issue:
- CEO change at TeleSoftas
People:

- Let's welcome last month's newcomers
Projects:

- Two new projects at TeleSoftas - Brightpearl & Engine No. 1
- Summer Party 2022
- New referrals program
- Klaipėda BBQ party
- Personal Perks are back
- TeleSoftas spring break party
- Upcoming training for June
​
- Congenica wins Technology - Company of the year
- Info Show Lan Party & KTU IF Internship Days
- TeleSoftas went hiking
- TeleSoftas went running
Hello Biutiful TeleSofas people!
Oh my, oh my - this is my first newsletter post as a CEO - I was thinking about how can I make this opener better and more spectacular. But even if my role changed, I remained the same, so you have to bear with the same old me. 🙂
I know that not everyone could participate in the last All Team Sync, so I thought I would use the opportunity to share my ideas on TeleSoftas future in this newsletter.
Moments from the
last All Team Sync - CEO Announcement
Two key areas where I want to put my attention
​
Focusing and directing TeleSoftas energy. I want TeleSoftas to find what are the things that we are truly best at (besides coding - of course. 🙂) Mastering not only technologies but domains and business challenges that we are solving with that technology. That could unlock new depths for our business, and create more value for our customers.

Building the structure and processes to strengthen three main pillars of a service company: Employee happiness, Customer satisfaction and last but not least - Profitability of our own company. First two have always been nurtured with lots of attention, the last one sometimes got left behind.
​
To achieve that - I am looking into ways to introduce a new structure element to the organization - I call it a Profit Center. We have platform teams, STLs and HR who take great care of employees. We have AMs and the BizDev team who take care of the customers. Profit Centers will aim and guard TeleSoftas business goals.
First reorganizations have already started in the PD department. The changes will be presented in more detail in the next All Team Sync.
Folks, that's it for now. And because there are many new things I have to pick up in my new role right now - I am afraid I will not be practising for my Starcraft duel next week. So please go easy on me and enjoy the rest of the newsletter!
What's waiting for at the Summer Party this year?
This year at a Summer Party you will find two zones of entertainment - the active area & lounge zone. The active area will offer you plenty of activities like an inflatable obstacle course and giant foosball, where you will be able to collaborate with your colleagues and try out their trust.

While at the lounge area you will be able to try out your mastery of card & board games and get a glimpse of Nigerian and Lithuanian cultures to feel the sense of our multicultural community.
Wait... It ain't a true party if you can't let loose on the dancefloor, right? 💃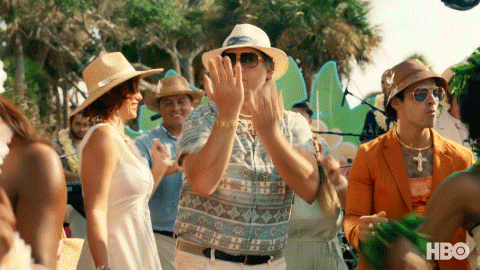 Details:
Date: July 9-10

Location: Skrebinų sodyba

Arrival on Saturday: 11.30 am (bus leaving times from Vilnius and Kaunas TBD)

Check-out on Sunday: until 12:00 pm
DJ and dancefloor will be ready for you in the evening, so get ready to shake your *you know what* with some Nigerian rhythms.

And to end it all, there is nothing better than singing "Hit me, baby, one more time" by Britney Spears at the top of your lungs. The mic is ready for you. 🎤

I'm in, are you?
PS. registration is open until the 30th of May.
New summer referrals program - Milky Way Galaxy
Did you know that one-third of TeleSoftas new hires come from your recommendations every year? Actually, our freshly announced CEO, Šarūnas Putrius, was also recommended to TeleSoftas by Lina Vareikienė! This illustrates how growing TeleSoftas through your own network is deep in our roots.

Last summer, we had an explosion when 48% of all hired people were referred by our community. Even though TeleSoftas is growing rapidly, we still keep a very tight and close community by inviting our friends, family, and acquaintances.
Just a reminder that starting in 2022 Referrals bonuses were increased:
500 Euros - Administration positions (HR, Finance, AMs, Marketing, Sales, Operations, PMs, SMs, POs, STLs) and Junior developers, Junior QA, Junior DevOps, Junior Designers.

1000 Euros - Mid or Senior developers, QA, DevOps, Designers.

2000 Euros - Architect or TTL.


On JUNE 1st we will start a new space theme Referrals program – Milky Way Galaxy.

For recommending people to TeleSoftas, you will travel through the planets and have an opportunity to win some awesome prizes.

*Just remember that bonuses are still valid, and this program is an extra addition!
Heyheyhey, kolegučiai,

Do you know that Klaipėda office has a nice BBQ terrace?
Have you heard Klaipėda's office created a song about kolegučiai at last TeleSoftas summer party?





It can be said that we were influenced to create that song due to things happened during Klaipėda BBQ party. In the song lyrics, you can find couple of lines about BBQ party, which became a Klaipėda Office tradition every year.

This event is unique in that we invite not only TeleSoftas kolegučiai, but also guests from other Klaipėda IT companies or organizations with whom we have and want to keep a good vibe. After the last BBQ party "mes užkūrėm Hofą". Maybe we will be able to repeat it again this year?

Register and pri'vibe'inam together! The number of invitations is limited.
Personal perks are back!
Summer starts in 16 days, can you believe it?
Do you know what else starts in 16 days? Your Personal Perks! 🙀
This time we promise a simpler experience & much more options, but your most beloved categories will be there too. 🤞
Personal Perks budget is 200 Eur/ person after the trial period.
All the information is coming soon, but some things you should know:
soon you will receive an invitation to join the Benme platform.

you will be able to choose your benefits from June 1st until December 31st.

all of you will receive your Personal Perks (in case you are still in your trial period, your PP will be available after the trial period ends).
TeleSoftas Spring Break Party
We know that all the TeleSoftas Tribe people are working for something - somebody has brunches, breakfasts, teambuildings and all the other fun activities.

Justas Valatka says NO to conference calls and conference parties, he thinks that we are humble people and we want to connect with everybody live and have beer and have fun. We are thirsty enough for the party and we cannot wait until the big big big Summer TS festival!

If you have more questions you can ask - Dominykas Orda, Justas Valatka, Liutauras Pilkionis, Aidas Vagonis.
Upcoming training for June
In June we will have these training:
1. Tech training for non-technical employees (training moderator Marius Vitkevičius)
2. TeleSoftas projects & clients presentation (presentation moderator Vilius Smalinskas)

These training are intended for newcomers, and all participants are added to events based on their start day at TeleSoftas. If you are not a newcomer but would like to participate, shoot a slack message to Viktorija Budrevičė.

Have you checked the updated Internal Workshops & Training page in Notion?
On this page, you can find such information, as:
Plan for non-tech training in TS for 2022;

Some info about the training we already delivering or planning to have;

Link, where you can fill in your suggestions for future training in TS;

Information about English and Lithuanian lessons.

One more thing - from the last month we have a new training budget spending way - SELF TRAINING!


Welcome to the team!
Martynas Rimutis
Node.js Developer
Ignas Kiela
Python Developer
Paulius Gilvydis
JAVA Intern
Oksana Semeniuk
Data Analyst Intern
Paulius Butkus
Node.js Developer
You can also read introductions of previous months' newcomers HERE.

At the end of April TeleSoftas started to work with a new client - Brightpearl. This project also came through the recommendation as well as the biggest part of all our projects.

Our main sponsor at BP is Andrew Baldrian. Those of you who have worked on the Viavi project for any length of time (and before that Arieso) will know Andrew well, as he was the VP of Engineering at Viavi and now he is VP of Engineering at Brightpearl.

Thanks to our internal Viavi team's performance over the years, we've built up a fantastic reputation with Andy, and despite it being a competitive tender process, TeleSoftas was chosen above other vendors to partner with Brightpearl.
Brightpearl has identified a number of projects in their roadmap that they would like addressed and have partnered with TeleSoftas to achieve this. The projects so far are:​
Security and Defects-Building Brightpearl's SDK;

Java library upgrades across their whole platform;

MySQL upgrades and AWS QA automation platform.
Brightpearl exists to automate retail. They help omnichannel businesses sell finished goods, trading $2.5m-$50m a year;

Over 1,200 businesses in 26 countries use their platform;

Brightpearl is a cloud platform built on AWS with 99.9% uptime and is deployed twice as fast as the competition;

They've been named Top UK SaaS Company to work for and are going from strength to strength with their ambitious growth;
- Automation QA: Dzmitry Skarabahatau
- Tech Lead: Gediminas Markevičius
- Account Manager: Mark O'Shea
- Delivery Manager: Rasa Šataitė.
How do we help Brightpearl's business grow and succeed?
These are the main 5 impact areas:

Reduce technical debt;

Create the ability for Sage and other partners to be able to integrate into Brightpearl;

Bring Brightpearl technology stack up to the latest technology;

Reduce costs (especially AWS costs)

Make BP more competitive in the market.
Engine No. 1 is an investment firm purpose-built to create long-term value by driving positive impact through active ownership;

Already working on the project:
- Data Architekt: Paulius Šileikis
- DevOps: Nerijus Kriaučiūnas
- Data Engineer: Karolis Kesminas
- Scrum Master: Kateryna Shevchenko
- Principal Architect: Bart Kappel.
The story started a while ago, while we had been consulting Odgers Berndtson for another big data project, where Bart has proven our expertise and made a solid impression on the external technical advisor, who worked at Apple. That person a while ago moved to Engine No. 1 which is a high-end investment firm and we were happy enough to reconnect.

The project with Engine No, 1 started at the beginning of April and right now TeleSoftas is developing a data engineering pipeline for gathering different data sources.
At the moment we are building the whole infrastructure to make it available.
Congenica wins Technology Company of the year
We are extremely happy that our partner Congenica - has won the Technology Company of the Year award. We are also thrilled to have been part of this journey, especially our amazing engineers serving this purpose! Kudos to Tautvydas Petkus and Gytis Mackevičius as well as the rest of the team, which had been part of this project!
Info Show Lan Party & KTU IF Internship Days
Everyone knows the long-lasting friendship between TeleSoftas and KTU. Especially the students. And the past weeks were pretty eventful. We had two events where we shared the vibe of TeleSoftas at Info Show Lan Party and spread the news at KTU IF Internship Days about our big plans for the upcoming autumn internship season at TeleSoftas.

Big thanks to all kolegučiai that joined us for some fun together!
TeleSoftas went hiking!
Vilnius' hike
On the 30th of April, colleagues from Vilnius had a hike in Antaviliai, Vilnius district, where they walked 14 km by the shores of 5 lakes! Everything that is a must for a good hike was there: warm spring weather, shining sun and excellent company. Hike wizard Tautvydas Karvelis and his helper Smėlė (the dog :D) led everybody through the route and took care of all goods for the bonfire they had at the end of the hike.
Press an arrow to see more pics
Kaunas' hike
On the 7th of May, colleagues from Kaunas also had a hike with two hike wizards, Valdas Baranausaks and Aidas Vagonis, at the Kauno marių regioninis parkas, where together walked 17km by the shore of Kauno Marios and not just that. They reached 355m elevation, so they had to climb a little bit, also had part of the path leading through the off-road, visited some abandoned places and finished the hike with a marshmallows party.
Press an arrow to see more pics
TeleSoftas went running!
TeleSoftas community has an old tradition of participating in various marathons. Besides repetitive marathons, colleagues find a new event every year in which they would like to participate. This year it was X trasa - an off-road running with big elevation.
On April 24th, our colleagues ran in Kaunas Marathon and X Trasa. In total, they ran 97km! Well done, guys!
If you would like to participate in upcoming marathons, join the #marathon channel on Slack!
Press an arrow to see more pics
How did you like this TeleSoftas Today?
If you want to contribute toward creating TeleSoftas Today or simply have great ideas, contact Viktorija Budrevičė!
Rate Us
Don't love it
Not great
Good
Great
Love it
Rate Us
An error occurred. Try again later
Your content has been submitted